Software
Data logging Weather Station Wireless monitoring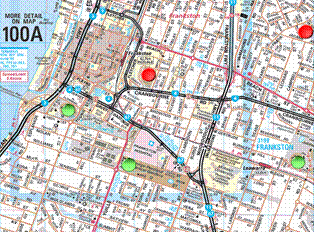 iNTELLiWEB is designed specifically for turf managers in Local Councils. It enables live, instantaneous monitoring of any sensors connected, including soil moisture levels in sports grounds open spaces across your entire portfolio. All you need is a PC with a web-browser and a mouse. Just click on the desired location on the map on your PC screen and our software shows you the "real-time" moisture level in your turf/garden bed instantaneously, as well as any other sensors being recorded.
Sports Ground, Parks, Open Spaces
Monitor real time moisture, weather, flow, soil temperature and other information from all open spaces at the click of your mouse from your office chair, displayed on a regional map.
Automate your watering schedules – iNTELLiWEB will disable your time-based irrigation programes when "full" points are reached and enable scheduled irrigation events when "refill" points are reached.
How does iNTELLiWEB work?
We link data monitoring to GPRS based communication networks. Access to your data is via a standard web browser over the internet. You can perform monitoring "in house" or contract it out to consultants with real-time data available remotely to off-site experts!
Councils and clients report:
Peace of mind! Healthier turf
Safer turf
Water savings – use only what you need
Efficient use of water resources
$$ savings on water not used (watering disable automatically)
Rate payers really know you care about water use
No embarrassing oval closures
Good "press" for local papers
NEW functionality:
Rain gauge integration and automation.
With the addition of a rain gauge, not only can you record and display actual rainfall amounts, but you are able to program the irrigation system to disable irrigation after a specified amount of rainfall. With the live dashboard, you are able to view daily, monthly and yearly rainfal totals for each site.
High and low temperature control.
With the addition of an air temperature sensor, located in a strategic position, the irrigation system can be programmed to turn on or off at preset high or low temperatures. For example, frost control that will enable irrigation when air temperature is at 2 degrees celcius.
Wind speed and or direction cut off.
With the addition of an anemometer (wind speed and direction sensor), the irrigation system can be programmed to switch off under certain conditions. Example is where irrigation can be cut off to avoid spray drift of water i.e. disable irrigation when wind direction is between north and west, and wind speed is 20km/hr.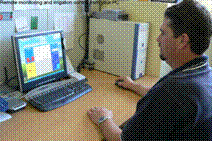 Live ET calculaions
With the addition of an integrated weather station, ET can be calculated and daily ET values can be displayed live on your PC.